Bringing a couple of famous Art Nouveau paintings to life through the magic of photography.
Gustav Klimt, one of the elite protagonists of the Vienna Secession movement, is without doubt responsible for some of the most iconic paintings of the late 19th/early 20th century. I'm sure that almost everyone has at least heard about the works of art like The Kiss, Danae or Water Snakes. (If not, you should be probably ashamed of yourself, because…common..Gustav Klimt?). But the question here is, could you do something, by implementing the modern technology for example, to improve them? The answer is – of course not, what kind of a question is that? What are you, some kind of post-modern, technocratic, art-abolishing caveman, or what? You can't improve art, that has already been finished, you can just pay homage to it. And exactly that was done by the photographer Inge Prader during the 23rd edition of the Life Ball in Vienna this year (Klimt was from Vienna, did I mention that?). The combination of models, elaborate costumes and skilled photographic skills has created a truly worthy tribute to the Klimt's Golden period. So take a look, it's definitely worth it.
Danae – 1907 – a popular subject among many artists of the 1900s. Danae was seen as a symbol of divine love and transcendence.  Imprisoned by her father, king of Argos, she is visited by Zeus in a form of a golden rain, and later gives birth Perseus, one of the great heroes of Greek mythology.
Death and Life – 1916 – described by Klimt as his most important figurative work. It depicts death, represented by the grim reaper, looking at life, metaphorically shown as a combination of multiple generations of people.
Beethoven Frieze, The Arts, Choir of Angels, and Embracing Couple – 1901 – painted by Klimt exclusively for the 14th Secession exhibition in Vienna directly on the walls , later removed and preserved as a separate painting. This piece is HUGE – 2,4 x 34,14 meters (that's 7 x 112 feet), weighting over 4 tons.  The whole painting can be considered as an allegory for the striving  for happiness in a word full of suffering, where one does not only have to battle the external forces of evil, but also his own internal weaknesses.

Beethoven Frieze, Knight in Shining Armor – 1901
Beethoven Frieze, The Hostile Forces – 1901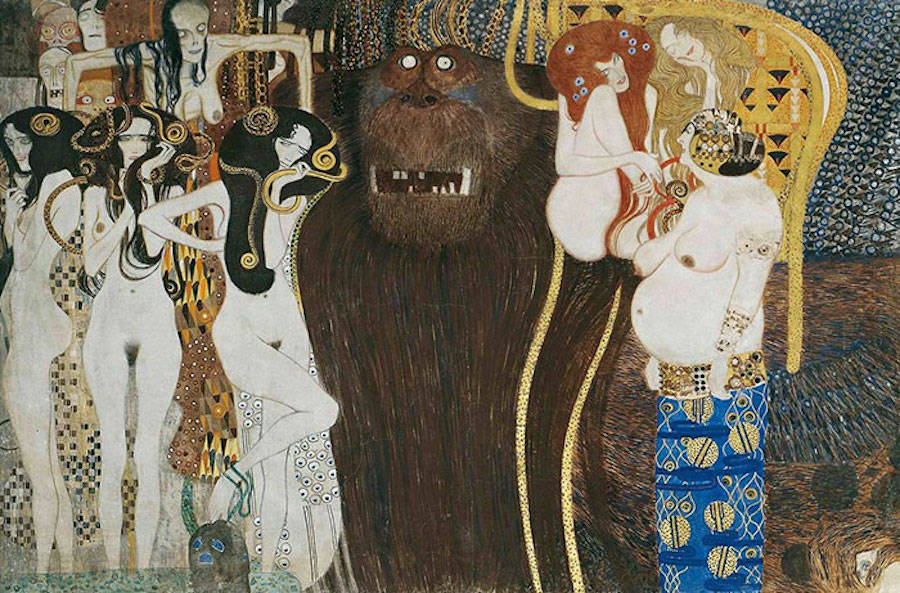 Beethoven Frieze, Floating Genii, Poetry – 1901

Medizin – 1900 – 1907 – Klimt University of Vienna Ceiling Paintings, also known as the Faculty Paintings, were a series of ceiling paintings done by Klimt for the Great Hall of University of Vienna. After the presentation (they were named Philosophy, Medicine and Jurisprudence), Klimt was accused of "pornography" and "perverted excess", and none of them would go on display. In May 1945 all of the paintings were destroyed by the retreating SS forces.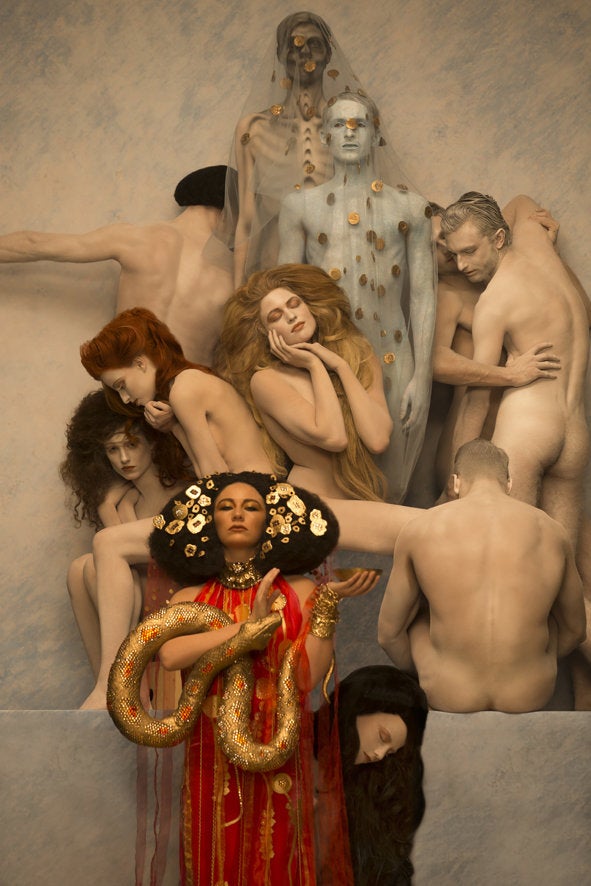 Theseus and the Minotaur – 1898 – done as a poster for the First Secession exhibition in Vienna.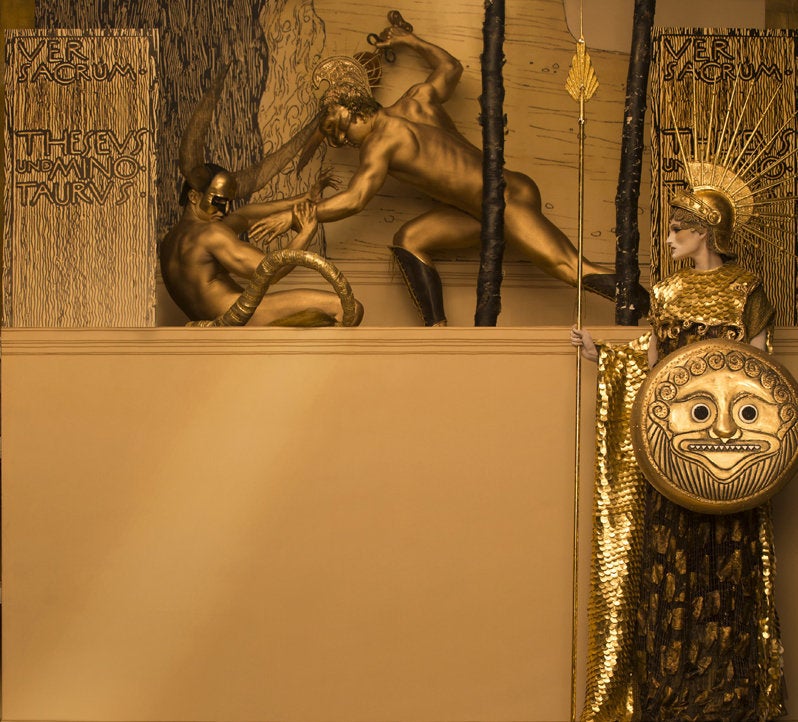 via Fubiz, Huffington Post